Slurricrasher Smalls AAA+ *$69 Ounces*
| | |
| --- | --- |
| TYPE: | Sativa Dominant Hybrid - 60% Sativa / 40% Indica |
| THC %: | 24-26% |
| GRADE: | AAA+ |
| EFFECTS: | Calming, Creative, Euphoria, Happy, Hungry, Relaxing |
| TERPENES: | Berry, Citrus, Fruity, Grape, Lemon, Sour, Sweet |
| HELPS WITH: | Anxiety, Chronic Pain, Depression, Headaches, Migraines, Stress |
Slurricrasher is a slightly sativa dominant hybrid strain (60% sativa/40% indica) or an evenly balanced hybrid strain (50% indica/50% sativa) create through crossing the delicious Slurricane X Wedding Crasher strains. This delicious powerhouse packs a super heavy high that's pretty well balanced in nature, ideal for any hybrid lover. The high comes on fast and hard, crashing into your brain with a lifted sense of happy euphoria. These cerebral effects and uplifting yet calming, leaving your head feeling as light as air and you feeling like you have not a care in the world. This sense of calm will soon wash over your entire body, leaving you feeling relaxed from head to toe and pretty hungry at times. With these effects and its high 17-27% average THC level, Slurricrasher is often chosen to treat those suffering from conditions such as chronic stress or anxiety, depression, chronic pain, headaches or migraines and chronic stress or anxiety. This bud has a sweet and fruity berry grape flavor with a touch of sour citrusy gassiness upon exhale. The aroma is very similar, with a sour gassy overtone accented by a punch of citrus and sweet fruity cherries and grapes. Slurricrasher buds have oversized and dense spade-shaped forest green nugs with lots of thin orange hairs and a coating of chunky, golden-white crystal trichomes.
If you purchase this product you will earn
69
Points worth
$

1.38
!
If you purchase this product you will earn
69
Points worth
$

1.38
!
Related products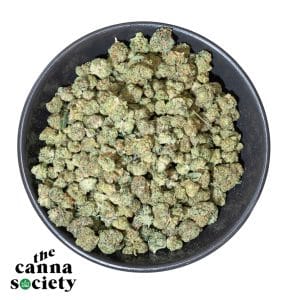 SOLD OUT
4.7894736842105 out of 5
$

69.00
Please check back for restock